About Mr Zhang (Jeff) & Mrs Zhu (Julie)
Both of us have 30 years clinical experience
Good at difficult problems with special skills
Very good reputation
Education and Qualifications :
Mrs Zhu graduated from China: Anhui University of Traditional Chinese Medicine. Mr Zhang graduated from China: Shandong Medical University. We both have been working in the Traditional Chinese Medicine (TCM) clinic for 34 years, having previously worked for the local hospital in China for 19 years as a TCM doctor. After we achieved the Senior Title of TCM doctors, we came to UK and worked for TCM company for another 15 years as senior TCM practitioners. So, we are more than qualified to look after our clients, we're proud of the fact that we've already achieved respectable results and received high praise and trust from our clients.
We have achieved Traditional Chinese Medicine(TCM)senior professional titles and TCM master's degrees
We have achieved VTCT(world class qualifications) Level 3 Diploma in Reflexology(QCF)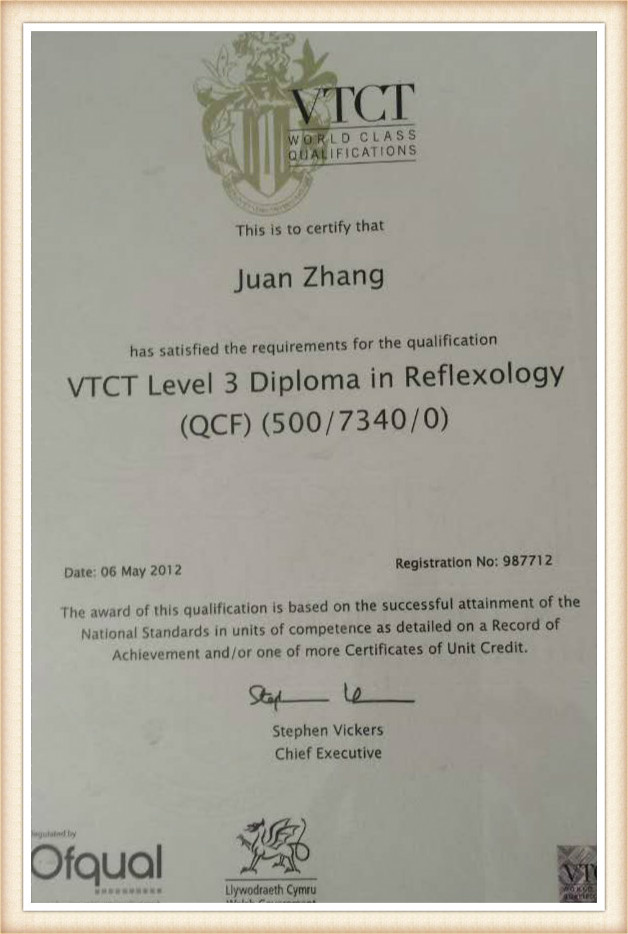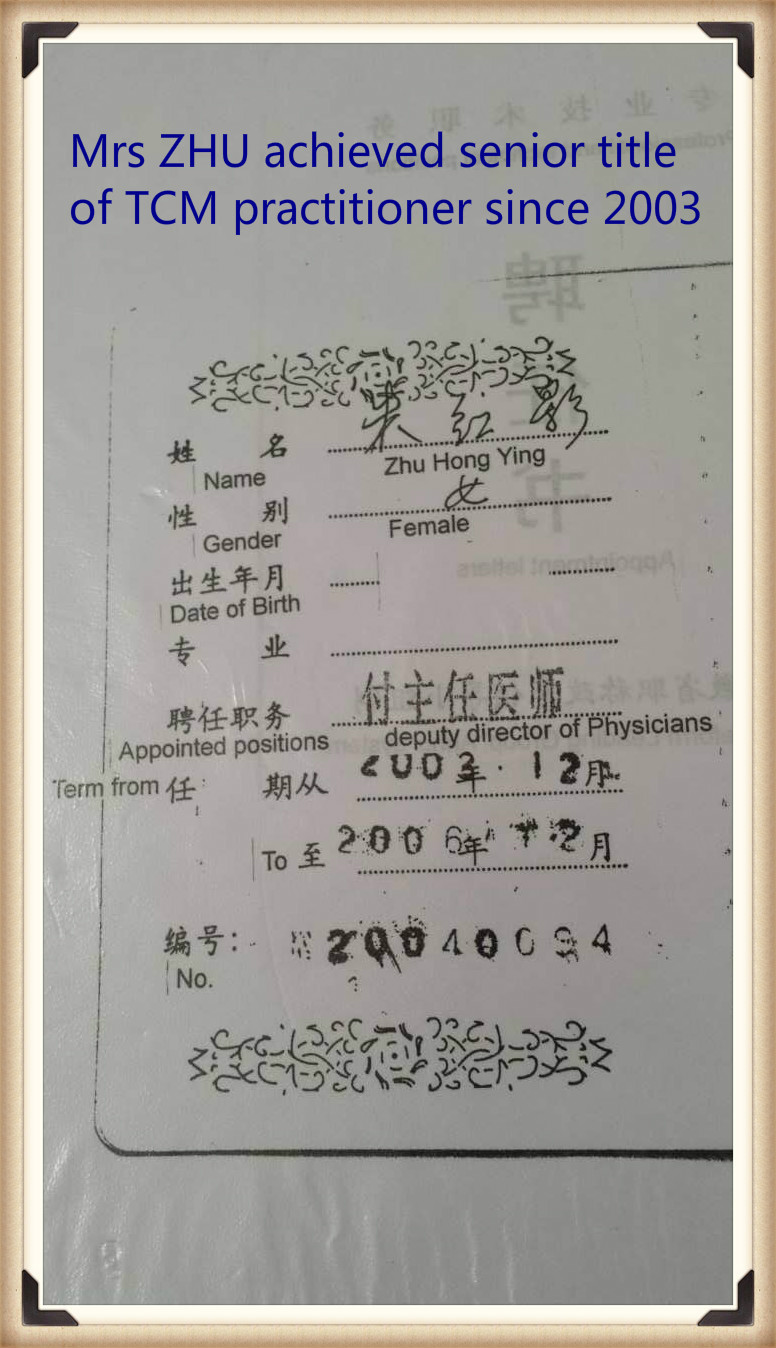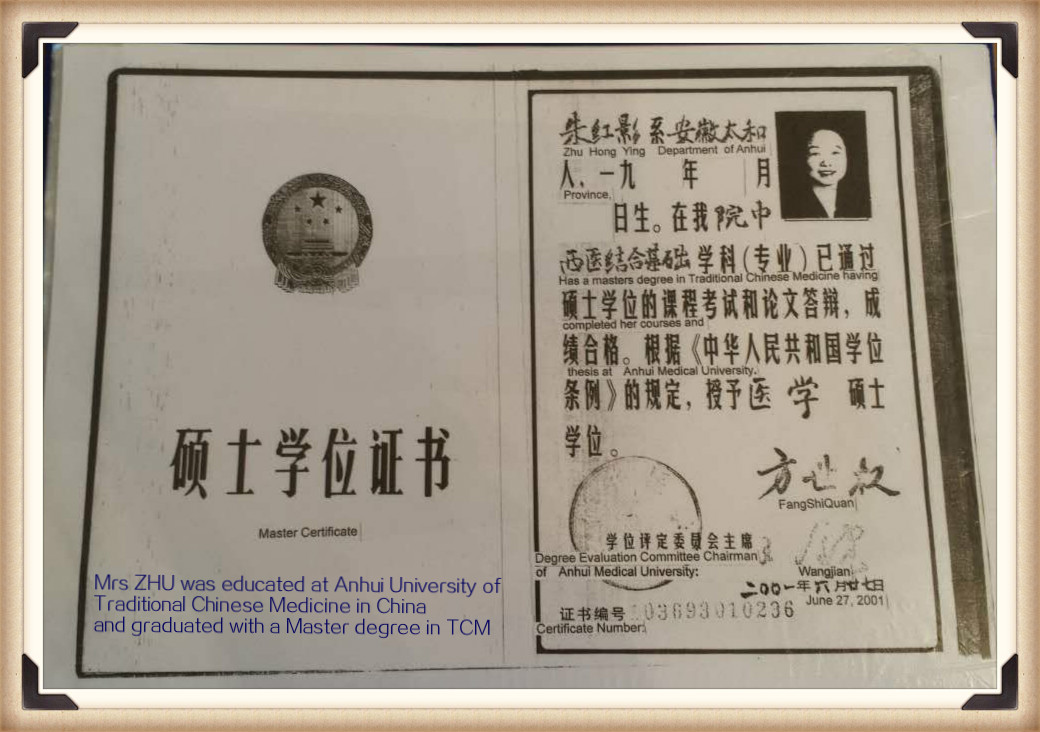 Registrations :
We are registered with the Association of Traditional Chinese Medicine and Acupuncture UK (ATCM) which is the largest regulatory body in the UK for the practice of traditional Chinese medicine therapies. We are registered with Federation of Holistic Therapists(FHT)which is the largest regulatory body in the UK for the practice of holistic therapies. We are also registered with Leeds city council and have been inspected by their environmental health team.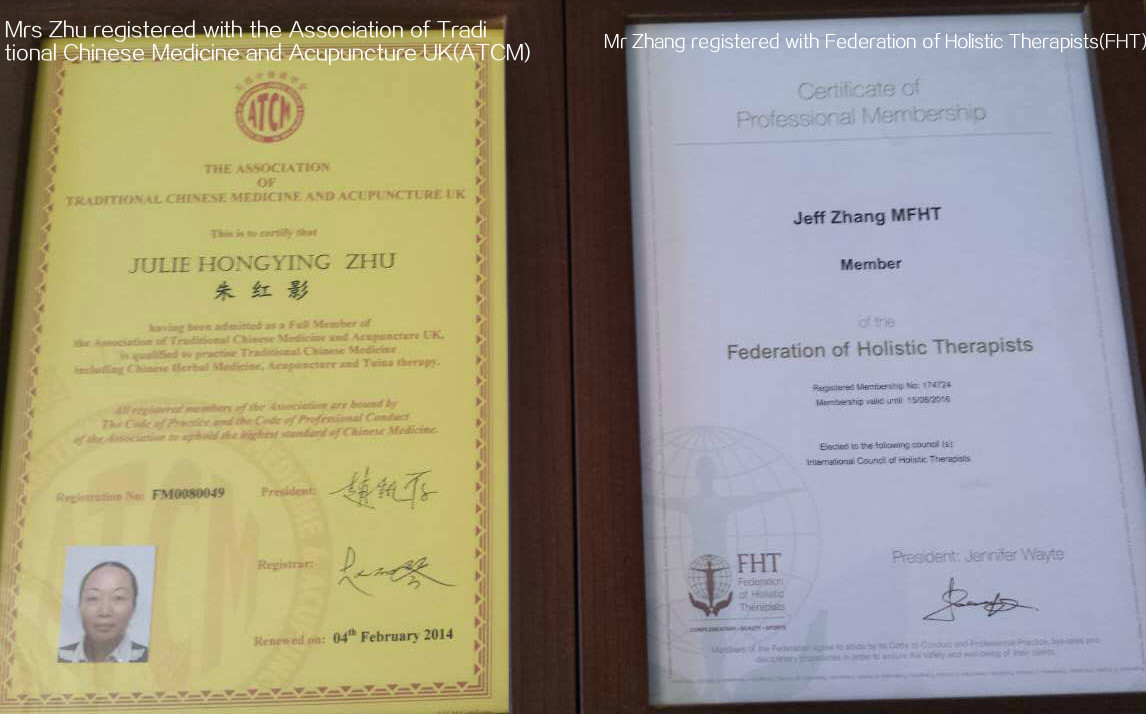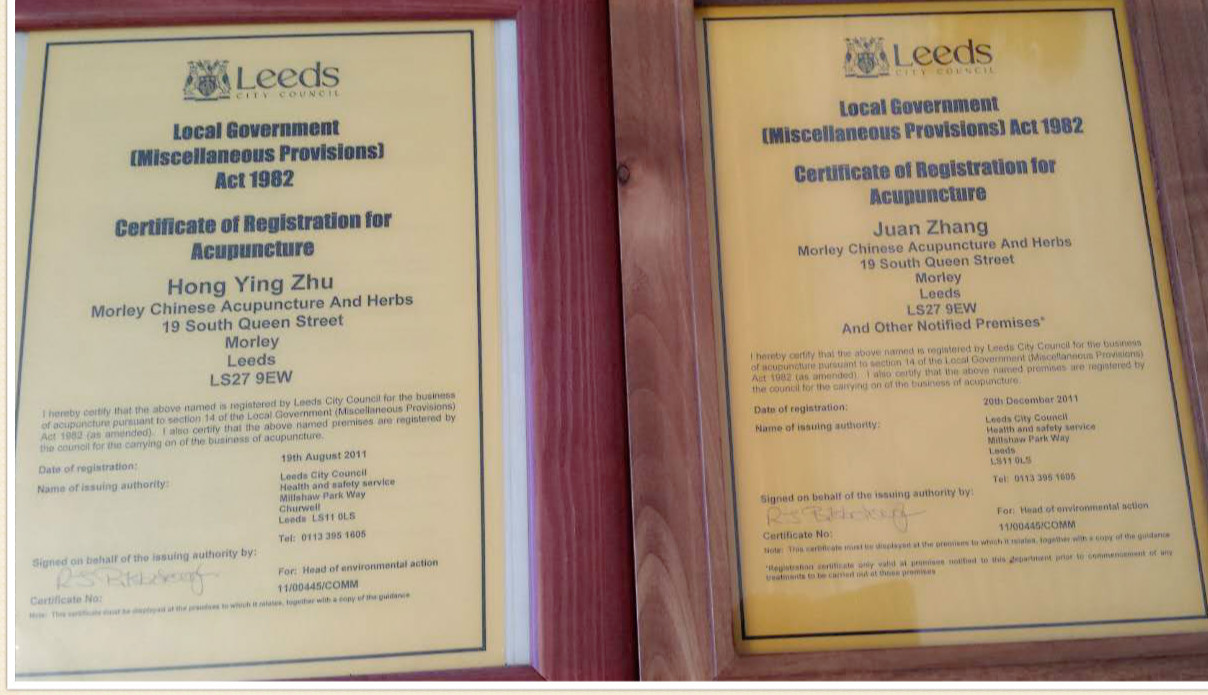 Publications:
We published ten professional papers on the international and the national professional clinical journals as follows:
1.CLINICAL JOURNAL OF ANHUI TRADITIONAL CHINESE MEDICINE 1995, 03
Acupuncture treatment of cervical and lumbar spine bone hyperplasia clinical observation of 86 cases
2.SHANGHAI JOURNAL OF ACUPUNCTURE AND MOXIBUSTION 1996,0S1
Moxibustion to cure one case of pregnancy urination blocked
3.AUSTRALIAN INTERNATIONAL CHINESE MEDICINE TECHNOLOGY ACADEMY INCORPORATED Nov. 1997
The Clinical Efficacy of Acupuncture Treatment for Stroke Hemiplegia
4.ACUPUNCTURE RESEARCH 1998 03
Pointer hanging bell hole immediate effect observation of stiff neck
5.SHANGHAI JOURNAL OF ACUPUNCTURE AND MOXIBUSTION 1998 04
Moxibustion on points Yifeng and Xiaguan  for 186 cases of peripheral facial paralysis
6.JOURNAL OF TRADITIONAL CHINESE MEDICINE AND CHINESE MATERIA MEDICA OF JILIN 1998 05
Heavy dose of SuanZaoRen for 88 cases of insomnia
7.SHANGHAI JOURNAL OF ACUPUNCTURE AND MOXIBUSTION 2000 001
Clinical observation of resuscitation in the scalp acupuncture treatment for stroke hemiplegia
8. WORLD JOURNAL OF ACUPUNCTURE MOXIBUSTION 2002 04
Clinic study on treatment of acute ischemic stroke with acupuncture of acupoint of the pericardium meridian and the heart meridian
9.ACUPUNCTURE RESEARCH 2003 03
Clinic study on the protective effect of acupuncture of BL-15, BL-14 combined with medication on Cardio-cerebral functions in patients with acute ischemic stroke
10.The Journal of Chinese Medicine And Acupuncture 2020 26(01)
Clinical Report on Precise Treatment of Typhoid QIAN Method with Six Meridians Diseases
Published book:
SHANG HAN JING FANG RU MEN 《伤寒钤法临床实战精华---伤寒经方入门》by Mr Jeff Zhang in 2020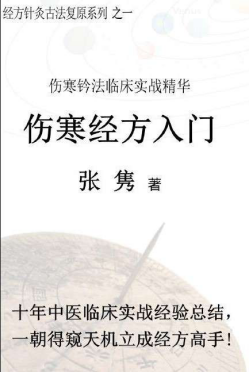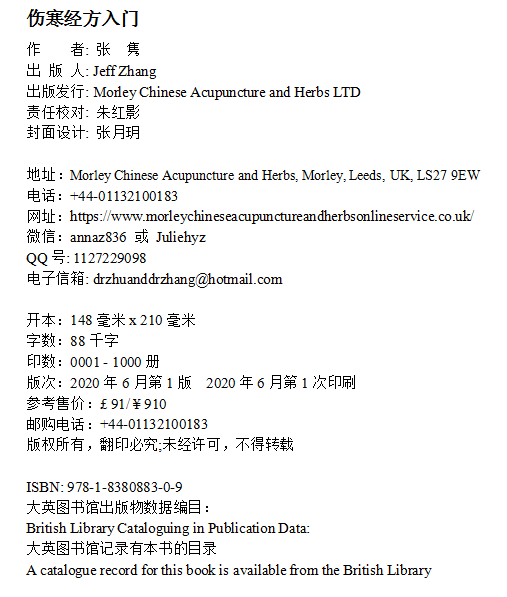 Awards:
Mrs Zhu got first level award in Fuyang City Science and Technology Progress Prize in 2002
Mrs Zhu got an award in Outstanding Professionalism and Technical talents by Fuyang City Council in 2004
Mr Zhang got first level award in Fuyang City Science and Technology Progress Prize in 2002
Morley Chinese Acupuncture & Herbs Clinic had won customer service awards for 3 years running since joining Whatclinic.com in 2013, including one award winner in 2013 and two customer service awards in 2014 and 2015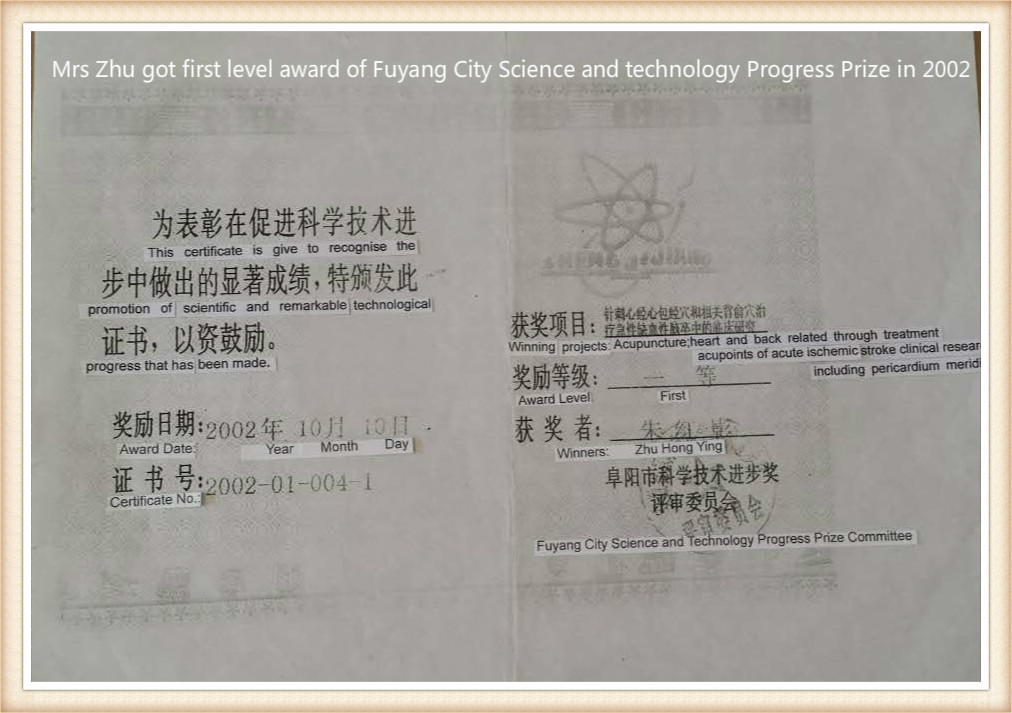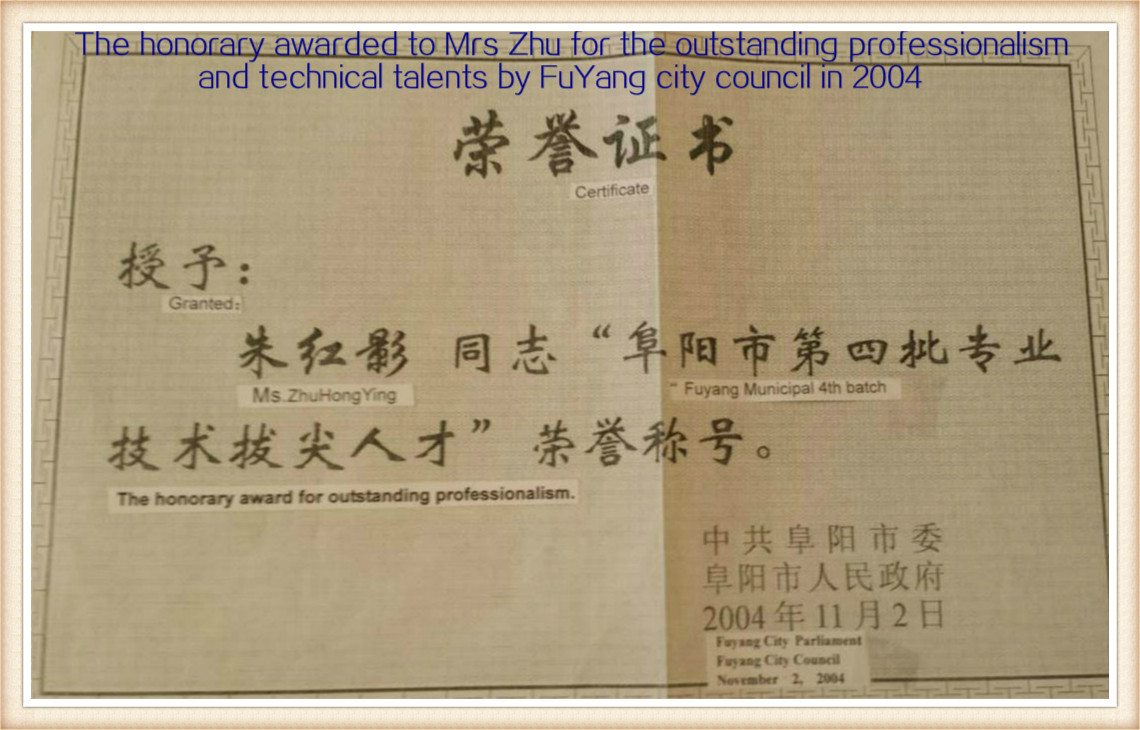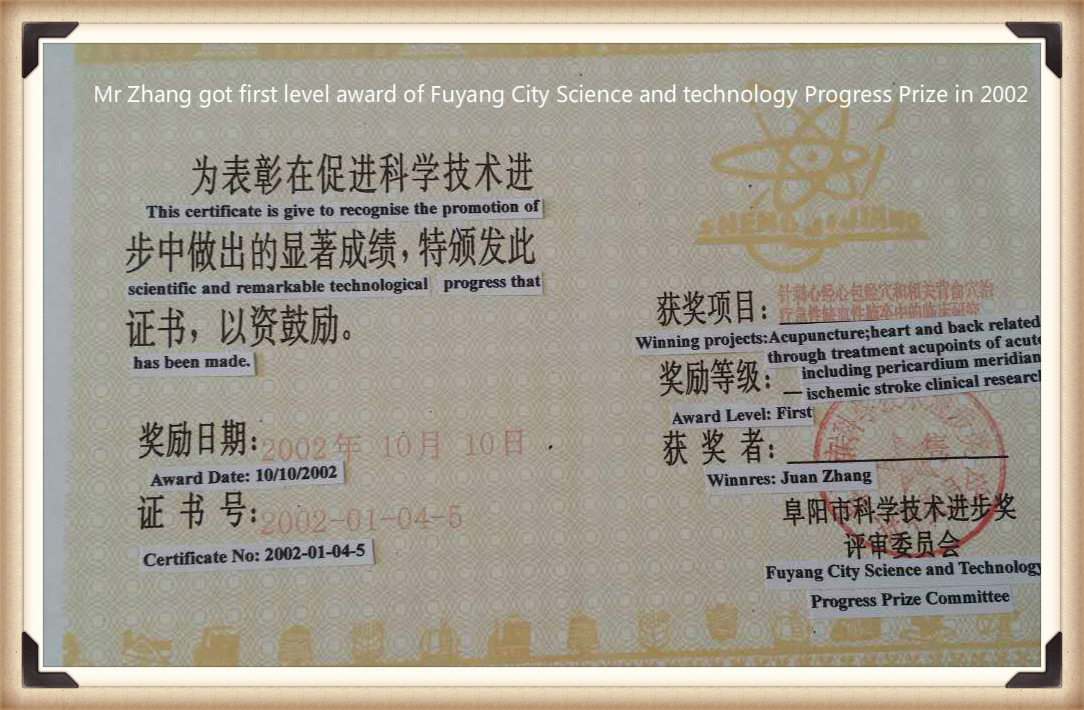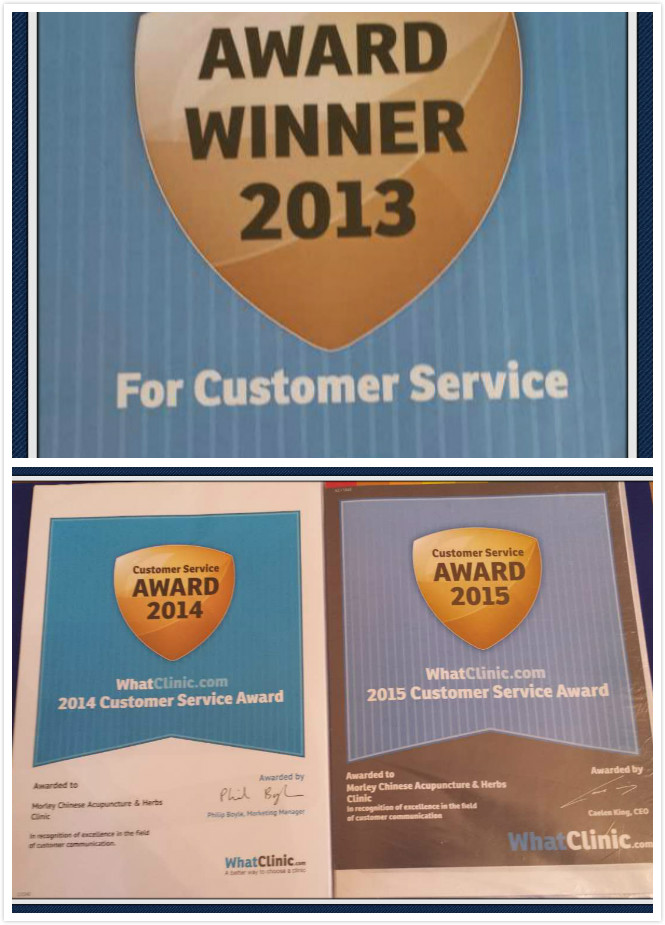 Contact us on 01132100183 / 07584130688 or by email to discuss how we can help your general health or support your fertility or pregnancy.
We can definitely help you !
Please help us to help you !